You are hereAltreonic's StarFish scalable high reliability controller available for preview
Altreonic's StarFish scalable high reliability controller available for preview
---
Printer-friendly version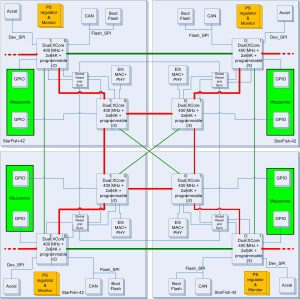 Altreonic is now pre-announcing its new high reliability StarFish product range. Designed as a scalable and customisable range of embedded controllers, it can handle a wide range of real-time embedded applications. The basic building block is the StarFish-42. It has two dual-core 400 MHz 32Bit processors, each running up to 8 threads in the hardware. Supported by the formally developed OpenComRTOS, large networks of processing nodes can be transparently programmed. For this purpose StarFish hosts a wide range of communication and I/O capabilities like 100 Mbit/sec ethernet, CAN and direct links for inter block communication.
This block architecture (without the mezzanine) delivers up to 800 Mips. The developer can exploit redundancy with synchronization and voting to increase the reliability of his design as an application option. More scalability and redundancy is provided by adding multiple StarFish-42 together as in the StarFish-424 where this delivers up to 6400 Mips.
Application specific mezzanines allow the controllers to be adapted a wide range of applications. Announced mezzanines will feature smart IO (ethernet, CAN, SPI, I2C, PWM), programmable FPGA with analog I/O, DAC, ADC and high speed floating point DSPs.
Altreonic offers StarFish with a range of customisation services: integration of C application code, programmable I/O, FPGA programming, custom mezzanine design and certification support. For the latter purpose, StarFish technology will also be made available under an Open Licensing scheme.
Interested customers who want more details or who want to consider application specific designs are invited to contact us via the contact form.