NOFIST
---
PRESS RELEASE
Pressemitteilung • Communiqué de Presse • Comunicato Stampa
Altreonic successfully delivers on the EuroCPS NoFist project
(Novel Fine Grain Space and Time Partitioning for a Mixed Criticality Platform)
In the project, supervised by Thales TRT, Altreonic ported and further developed VirtuosoNext Designer, providing as an industry's first fine-grain space and time portioning. The latter enables non-stop hard real-time processing by recovering from runtime faults in microseconds on the selected Freescale T2080 platform.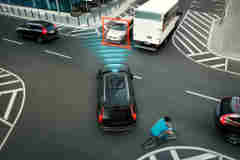 A fault-tolerant, fully distributed RTOS
Just when you thought there was nothing new anymore in the world of RTOS, the VirtuosoNext RTOS announces seamless fault-tolerance, a milestone for embedded safety and security.
Synopsis: As the world is moving towards "smarter" systems, often embedded, and our life and society is becoming dependent on their uninterrupted operation, fault-tolerance is becoming a prime requirement. Just think about autonomous driving. Will it safely bring you home all the time? In case of a system fault, the reaction time is less than 100 milliseconds. No time for a reboot.
A consequence of the fine-grain space partitioning support in VirtuosoNext is the capability to recover from runtime faults within a few microseconds. The combination of fine-grain concurrency and this fast recovery effectively provides support for non-stop hard real-time processing even when faults occur without a complex and costly system design. VirtuosoNext non-stop capability means that fault-tolerance comes in reach in a cost-efficient manner, as well as in terms of development effort as in terms of compute resources.

Altreonic has released an updated version of its "QoS and real-time requirements for embedded many- and multicore systems" booklet. A major chapter was added covering the fine-grain partitioning support of VirtuosoNext on several target processors (Texas Instruments M3, A9, C6678 and Freescale 2080). The paper clearly shows that partitioning support for safety and security can be implemented with almost no penalties for the real-time behaviour. In addition, the code size remains very modest (ranging from less than 10 kbytes to 38 kbytes depending on the target). Download the attached publication for more details.
Altreonic has been selected in the EuroCPS project to port a Flight Management test application with VirtuosoNext on an avionics platform of Thales. EuroCPS is an European funded project focusing on advanced computing and cyber-physical systems. It gathers several design centers in order to boost and initiate synergies between innovative companies, major CPS-platforms and CPS-competency providers. The specific project with Altreonic is labeled NoFiST (Novel Fine Grain Space and Time Partitioning for a Mixed Criticality Platform) and is a cooperation with Thales TRT. Hereby the abstract: