VirtuosoNext
---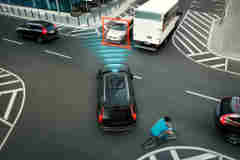 A fault-tolerant, fully distributed RTOS
Just when you thought there was nothing new anymore in the world of RTOS, the VirtuosoNext RTOS announces seamless fault-tolerance, a milestone for embedded safety and security.
Synopsis: As the world is moving towards "smarter" systems, often embedded, and our life and society is becoming dependent on their uninterrupted operation, fault-tolerance is becoming a prime requirement. Just think about autonomous driving. Will it safely bring you home all the time? In case of a system fault, the reaction time is less than 100 milliseconds. No time for a reboot.
A consequence of the fine-grain space partitioning support in VirtuosoNext is the capability to recover from runtime faults within a few microseconds. The combination of fine-grain concurrency and this fast recovery effectively provides support for non-stop hard real-time processing even when faults occur without a complex and costly system design. VirtuosoNext non-stop capability means that fault-tolerance comes in reach in a cost-efficient manner, as well as in terms of development effort as in terms of compute resources.

Altreonic has released an updated version of its "QoS and real-time requirements for embedded many- and multicore systems" booklet. A major chapter was added covering the fine-grain partitioning support of VirtuosoNext on several target processors (Texas Instruments M3, A9, C6678 and Freescale 2080). The paper clearly shows that partitioning support for safety and security can be implemented with almost no penalties for the real-time behaviour. In addition, the code size remains very modest (ranging from less than 10 kbytes to 38 kbytes depending on the target). Download the attached publication for more details.
Together they create a powerful and ultra-high bandwidth processing platform ideally suited for computation and bandwidth-intensive high-reliability and safety-critical applications
Chesham, UK – 21st February 2017. Sundance Multiprocessor Technology Ltd., an established supplier and manufacturer of high performance embedded solutions, has collaborated with Altreonic to port its multicore VirtuosoNextTM Designer embedded RTOS to Sundance's VF360 3U OpenVPX single board computer (SBC), that integrates a Texas Instruments C6678 Keystone multicore DSP alongside an Altera Stratix® V FPGA.
Read more in the attached press release.
Altreonic has been selected in the EuroCPS project to port a Flight Management test application with VirtuosoNext on an avionics platform of Thales. EuroCPS is an European funded project focusing on advanced computing and cyber-physical systems. It gathers several design centers in order to boost and initiate synergies between innovative companies, major CPS-platforms and CPS-competency providers. The specific project with Altreonic is labeled NoFiST (Novel Fine Grain Space and Time Partitioning for a Mixed Criticality Platform) and is a cooperation with Thales TRT. Hereby the abstract:
Altreonic has now ported VirtuosoNext™ Designer to the Texas Instruments' 8-core C6678 DSP of Sundance' Parsec VF360 VPX board. The board has 8 floating point DSPs and an Altera Stratix-V on board and is a real single chip signal processing embedded super computer. Running at 1.25 GHz, the eight cores deliver together up to 224 GFlops with a peak bandwidth of 16 Gbytes/s.
Altreonic is proud to announce the release of the version 1.1 of VirtuosoNext™, its high level yet very performant design and programming solution for trustworthy systems development. VirtuosoNext is derived from the formally developed network-centric and distributed OpenComRTOS who's functionality is inherited.
VirtuosoNext adds the capability to apply fine-grain time and space partitioning when the hardware supports it. VirtuosoNext provides safety measures to trap runtime errors without the system coming to a halt. The approach separates the code in a trusted zone (managed by the VirtuosoNext kernel) and an untrusted zone (executing application tasks). Contrary to traditional hypervisor approaches, the code size and performance penalty is minimal safeguarding the real-time response of a traditionally unprotected RTOS as standard priority based preemptive scheduling is maintained.
VirtuosoNext (protected mode) was initially disclosed in April 2015 This new release has also restructured the code resulting in even lower code sizes. On the ARM-M3, the VirtuosoNext kernel measures between 8 to 11.5 Kbytes. On the ARM A9, the kernel measures between 15 to 22 Kbytes.
Supported processors are ARM M3/M4/R4/R5 and the A7/A9/A15 processor family. The user has the option to enable the protection on specified processing nodes in his distributed or manycore target system. VirtuosoNext 1.1 will hence on make the previous and stable OpenComRTOS v.1.6 superseded as its functionality is integrated. The new services and improvements added with VirtuosoNext v.1.1 can be consulted in the attached files.
Share |
A new booklet was published in the Gödel Series on the topic of the ARRL (Assured reliability and Resilience Level) criterion. Developed by Altreonic, ARRL is complementary to the traditional Safety Integrity Levels but is domain independent. It aims at a criterion that acts as a contract for the reuse of components and (sub)-systems in the context of trustworthy systems engineering, in particular for safety critical systems. It achieves this by taking faults and how the component or system deals with it, into account. The booklet is available from the download section.
Share |
Altreonic is proud to announce the first version of VirtuosoNext™ which provides fine-grain Task level space partitioning. This allows protecting individual Tasks from each other, i.e. preventing one Task from corrupting the memory of another Task. Such protection can be crucial for the development of high reliability systems that must be kept running even if one Task becomes corrupted. The scheme has a small memory overhead while keeping the real-time scheduling support of a traditional RTOS.
Historic mission in search of the Origin of the Solar System
With a go-ahead in 1993, the Rosetta ESA mission was finally launched in March 2004. After a 10 years journey through our solar system, it has finally arrived and made rendez-vous with the 67P/Churyumov-Gerasimenko Comet.
Altreonic offers two main product lines in conjunction with services. A short overview:
1. "VirtuosoNextTM" is composed of following integrated development tools:
"VirtuosoNextTM" is a next generation RTOS that is API compatible with OpenComRTOS, who's kernel is integrated. It provides fine-grain Time and Space Partitioning. The result is the protection that is offered by classical Time and Space Partitioning schemes but with the responsiveness and small code size of a dedicated RTOS. The user has the option to enable or disable protection on specific nodes (if the hardware supports it).
"VirtuosoNextTM" is a network-centric RTOS, developed using formal methods. It supports from small microcontrollers to widely distributed networks of processing nodes, including nodes that run legacy OS like Windows or Linux. VirtuosoNextTM is the first network-centric RTOS that support heterogeneous systems in a transparent way.
Thanks to its formal development, it has unique properties like small code size, scalability, safety, portability even allowing developers to create their own services. It comes with the Visual Designer development environment allowing a graphical definition of the application and powerful tracing tools to profile the events in the system. While customers can do their own ports, ARM (Mx/Rx/Ax), Texas Instruments C6678, MicroBlaze, Leon3, PowerPC, XMOS, NXP CoolFlux DSP and MLX16 are available for specific boards. A typical code size is between 5 to 22 KiBytes. Altreonic offers porting and customisation services.
The "RTOS Qualification Package" is an optional component to the Open Technology License. Delivered as a GoedelWorks project, it gives detailed documentation and evidence for Qualification/Certification purposes with full test coverage and detailed traceability from top level Requirements till source code.
"Visual Designer" is a Visual programming and development environment for developing and simulating real-time embedded applications. It allows to define in a visual way the target's topology (from single processor to heterogeneous networks) as well as the application diagram. Template code is generated so that the developer only has to provide the algorithmic code. Applications can be simulated first on a Windows or Linux platform and then run on the target just by recompilation. It also has some powerful debugging tools:
"Event Tracer". It allows to analyse the scheduling and interprocessor communication in a graphical way.
"System Inspector": it allows to read out the status of any processing node at task level.
VirtuosoNextTM also offers dynamic code loading and execution, independently of the target processor. This capability is offered thanks to our SVM, short for "Safe Virtual Machine for C": very small (around 3 KiBytes), it allows to load and execute binary compiled C code tasks that has full access to the underlying RTOS services.